SOCMA Shares Specialty Chemical Perspective During 2019 GlobalChem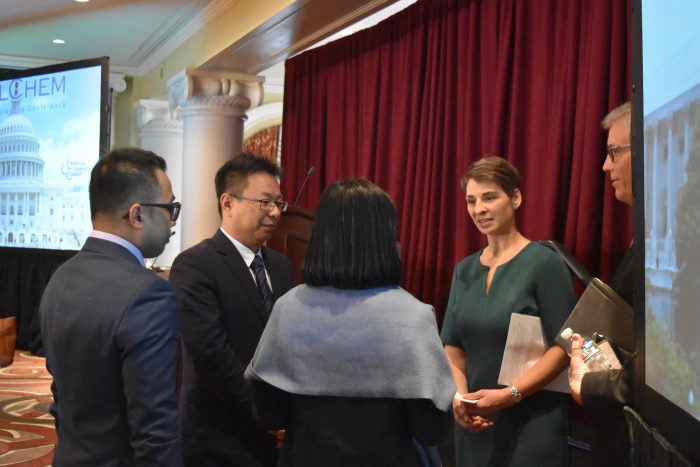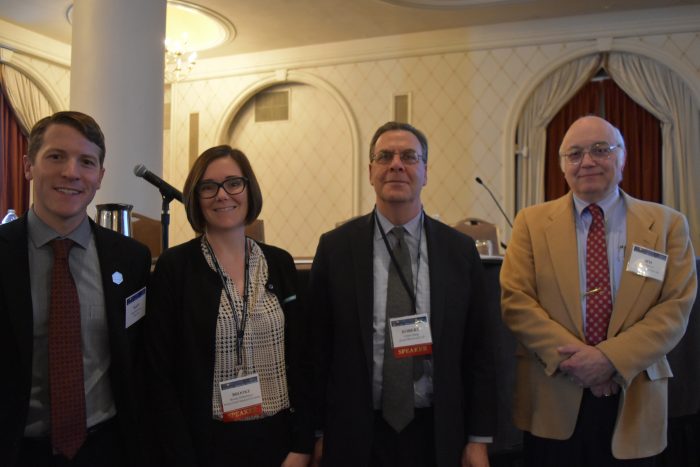 SOCMA President & CEO Jennifer Abril shared the unique perspective of how global regulations impact the specialty chemical sector in her keynote address on day 2 of the Global Chemical Regulations Conference. More commonly known as GlobalChem, the event attracted more than 300 industry professionals on March 6-8 at the Omni Shoreham in Washington, D.C.
During her presentation, Abril drew from her years of service to the industry at both ACC and SOCMA. Abril reflected on the significant changes in the global chemical landscape, including Toxic Substances Control Act (TSCA) reform, REACH, and sustainable supply chains. Given the on-demand nature of specialties, Abril stressed that continued and constructive communication among stakeholders is key. Abril highlighted key challenges and dynamics of 2019 and beyond, and how the industry must establish confidence in its investments to innovate new products with global impact. Here are a few key takeaways from her remarks:
The resurgence of U.S. chemical manufacturing at the turn of the 21st century is fueling investment and a competitive advantage for high-value American chemical products. Yet, this advantage is dependent on the ability to source low-cost inputs from trade-barrier-free markets. Uncertainty with major chemicals trading blocs necessitates the ability to restructure supply chains.



The continued proliferation of chemical management frameworks across the globe is bringing increasing compliance challenges associated with engaging in international commerce.



Speed to market and clarity of new requirements are also top of mind. Challenges here include EPA's New Chemicals Program, and specifically the major delays in approving PMN, as well as assuring adequate CBI protection. The specialty chemical industry's direction is motivated by downstream applications, and requires innovation and the ability to get the product to market quickly. There are clearly improvements needed to be made in expediting the review of new and improved chemicals. There is opportunity for constructive, meaningful dialogue under EPA's current leadership and EPA Assistant Administrator Alexandra Dunn's open-door policy.
EPA Shares Insight on TSCA Implementation, Backlog of PMNs
Both Dunn and Director Jeff Morris from EPA's Office of Chemical Safety and Pollution Prevention (OCSPP) were among a host of expert speakers during the three-day event. Dunn and Morris provided insight about OCSPP's plans for addressing and reducing the PMN backlog of more than 500 cases within the next six months, as well as the agency's implementation of TSCA. Dunn assured attendees that EPA is going to be clear and use the best available science as it carries out TSCA implementation. Morris noted that it is a priority for his office to meet the 90-day period for evaluation of new PMNs while also working to reduce the backlog this year.
SOCMA Hosts Three Sessions at GlobalChem
Below is a brief synopsis of each of the three sessions presented
Tariffs and Materials Sourcing Challenges
Robert Stang of Husch Blackwell, Brooke DiDomenico of Nation Ford Chemical and Jim DeLisi of Fanwood Chemical, who serves as Chairman of SOCMA's International Trade Committee, shared insight on how to mitigate the impact of tariffs on the U.S. chemical manufacturers. The panel of expert speakers discussed the latest developments in, and solutions to, sourcing challenges in countries such as China, India and the UK. The session was moderated by SOCMA's Manager of Legal & Government Relations, Matthew Moedritzer.


Interagency Process in Rulemakings
Charles Maresca of the Small Business Administration (SBA) and William Perry of the Occupational Safety and Health Administration (OSHA) discussed how rulemakings that are interrelated progress through federal agencies. Throughout the discussion, panelists provided key examples of how these agencies consult on rulemakings like the Risk Management Plan (RMP), Process Safety Management (PSM) and implementation of the Frank R. Lautenberg Chemical Safety for the 21st Century Act (LCSA). The session was moderated by SOCMA's Senior Manager of Regulatory Affairs, Jared Rothstein.

RCRA and the MPU Exclusion
SOCMA VP of Legal & Government Relations Robert F. Helminiak led a panel discussion focusing on EPA's recent reinterpretation of conditions necessary for granting Manufacturing Process Unit (MPU) exclusions under the Resource Conservation and Recovery Act (RCRA). Helminiak stressed the need to educate EPA inspectors on particularities of batch processing and the fact that the exclusion has been based on sound science to the benefit of both manufacturers and EPA for more than 30 years. Joining Helminiak on the Panel were Elizabeth Corona, who heads EPA's Smart Sectors Program, and Amy Wachs, Partner of SOCMA member Husch Blackwell.