SOCMA Commercial Services providing Key Insight and Resources
By Alyse Keller, Sr. Manager, Industry Relations
2021 has been a year of resiliency and growth
for the specialty and fine chemicals industry as companies emerge from the pandemic. Through SOCMA's Commercial Services, our team continues to
provide insight into future trends at both macro and micro levels, as well as resources to promote business growth opportunities for our members and the industry. Two key tools play a vital role in this effort – SOCMA's Specialty Chemicals Industry Census+ and the Lead Sheet Service.
This summer, SOCMA commissioned the 2nd annual Specialty Chemicals Industry Census+ to provide a high- level view of industry trends and metrics, and we've continued to see growth in our popular Lead Sheet Service, which offers a focused view of upcoming projects across the specialties sector.
Specialty Chemicals Industry Census+
The 2021 Census+ presents insight into what SOCMA is hearing from members and across our industry network on the business landscape. The report clearly demonstrates the strength and resiliency of the specialty and fine chemicals industry, with 100 percent of respondents anticipating revenue growth over the next 3 years. Commercial trends in 2021 that stood out in the census:
Business growth will be achieved through innovation, and this will drive CapEx.
Sustainability is viewed through the lens of business continuity and logistics more than through "green" domains.


Lead Sheets
SOCMA's Lead Sheet Service serves to facilitate projects between contract manufacturers and customers. More than 90 project requests with over 270 connections have been made since the program launched in 2019. In addition to the B2B connections, the Lead Sheet Service also provides insight into industry trends. Through analysis of the project requests, we identified the following:
The majority of projects are related to contract and toll manufacturing. Although more than one project type may be selected on the Lead Sheet, this demonstrates the need for an industry interest in tolling to bring their ideas and products to market.
Lead Sheet projects align well with SOCMA membership capabilities, which optimize successful B2B connections for the industry.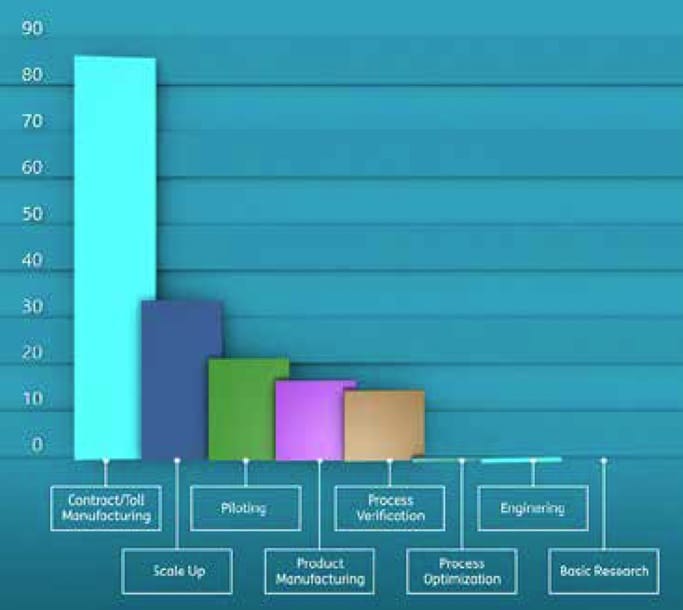 Analyses of Lead Sheet requests and member capabilities contribute to SOCMA's industry intelligence and data repository. If you have a project in mind and would like to connect with our membership via the Lead Sheet Service, or would like a breakdown of our analysis that would be helpful in your business planning, please reach out to Alyse Keller at chemsectors@socma.org
SOCMA Regional Roundtables
Helping Companies Mitigate Cybersecurity Risk
When companies assess and mitigate potential risks throughout their business, safety and operations have traditionally been the main areas of focus. But with more and more business being conducted via digital platforms, companies are taking a more serious and focused look at cybersecurity. Understanding the importance of securing critical information, SOCMA facilitated a Cybersecurity Executive Roundtable in October that emphasized the importance of three key components:
Assessment overview
Threat mitigation
What coverages are available to mitigate losses
A recording of this virtual event is available on the SOCMA website – www.socma.org/resource-center/ webinar-series.
SOCMA will continue this conversation with our members and industry stakeholders at an in-person Roundtable in 2022.
The Horizon for Chemical Business Operations
In December, SOCMA is hosting an Executive Roundtable as a follow-up to last fall's Power Hour discussion. Join panelists as they share their unique perspectives on business planning trends and where revenue growth will occur, touching on many of the topics identified through SOCMA's 2021 Industry Census.
This is an opportunity to learn:
How strategies for these specialty chemical manufacturers have evolved.
What they see as key drivers for industry moving forward.
What headwinds are working for or against the specialty chemical industry.The Roundtable is open to members and non-members across the specialty sector.
For more information, or to get involved in our upcoming Roundtables, contact Alyse Keller at akeller@socma.org, or (571) 348-5105.
Categorized in: Uncategorized