Regardless of the source of supply or length of the logistics, companies across the specialty chemical supply chain found themselves having to hold larger than usual inventories as protection against disruptions. Over the past two years, as chemical manufacturers actively sought multiple suppliers to remain agile and reduce risk and supply disruption while concurrently building just-in-case inventories as an immediate form of protection.
As more normal trade and shipment resume, those just-in-case inventories are being worked down. "We are expecting inventories to recover within the coming months," said Eduardo Torres, Global Manager for Silicones and Silanes at Milliken, "and we're looking forward to more stability across our supply chain in the second half of the year."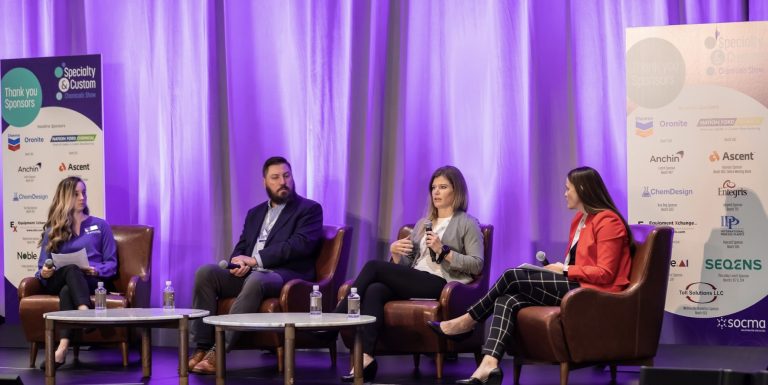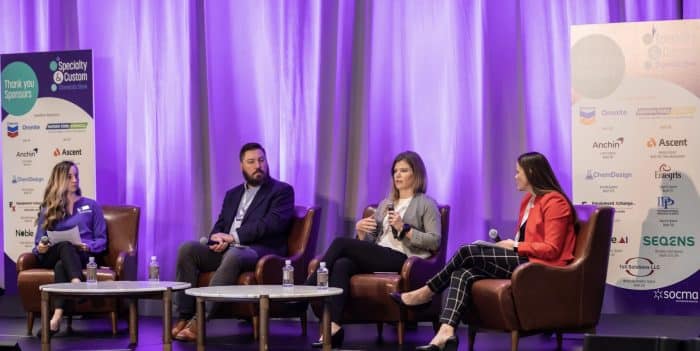 The particular challenge for chemical manufacturers is that, by the nature of their business, multiple suppliers of raw materials and intermediates are needed for different customers and different formulations. "Materials management is one of the most important issues in the specialty chemicals sector. It's not just logistics or supply chain management; it's also staffing and training, safety, and facilities management because our most important asset is our people," said Torres.
The 2023 SOCMA Show's general session, "Impacts of ESG & Sustainability Standards on Business Continuity," was an example of the adage that all paths up a mountain eventually lead to the top. The panel was composed of industry leaders from companies that differ from one another, as are their approaches and experiences with ESG and sustainability. Erika Krueger, Director, Industry Relations at SOCMA, moderated the informative dialogue on how specialty and batch chemical manufacturers are developing and implementing ESG initiatives at their facilities.
Varying Approaches
"Milliken has a long heritage of caring about sustainability and the environment starting with our first recycling policy in the early 1900s," said Deidre Sandrock, Director of Sustainability & Innovation at Milliken. "We started receiving customers' requests for data in the early 2010s. Our sustainability efforts are based on a combined approach to reduce or eliminate our environmental footprint as we maximize our handprint, or the beneficial impact, our products have on our customers."
Noting that the specialty chemical industry is mainly a provider of materials rather than finished goods, "The metrics we provide enable Ashland's customers to provide sustainability information downstream, to their customers, the end users," said Sarah Phelan, Director of Sustainability at Ashland.
"Our focus is on our customers," said Phelan. "They are asking for more and more data, more engagement. Some of the data is utilized to differentiate themselves. As Ashland continues receiving these increasing expectations for ESG metrics from our customers, we've continued turning to trade associations like SOCMA, which provide best practices and templates for us to best capture and deliver that data."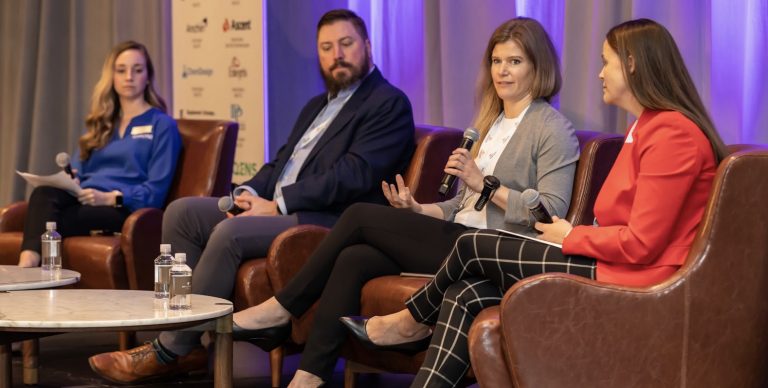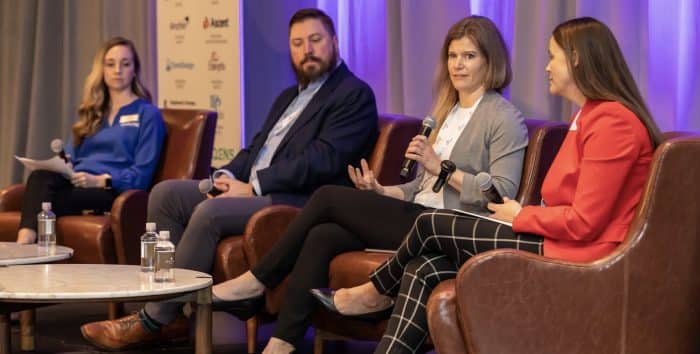 Answering Customer Demand
While large and mid-sized companies have the staff and resources to support and integrate ESG initiatives, some smaller companies are already stretched.
"As a toller, we are more targeted in our ESG efforts," said Bryon Leggett, Vice President of Business Development at ChemDesign. "In 2017, we received our first customer request to go through the EcoVadis assessment. After looking into what it entailed, we declined because we didn't have the staff available to complete it at the time. As more requests came in, our team began building and implementing sustainability initiatives, carving out what that looks like for ChemDesign's processes and capabilities. Also, we are a family-owned business, and the new generations are very concerned with these issues."
"Going beyond mandatory compliance and into voluntary actions is important," said Sandrock. Third-party assessments and setting industry standards are important for relevant comparisons and benchmarking. "A lot of ESG efforts these days are more open source, and people are willing to collaborate on benchmarking. Beyond that, you have to understand what is important to your business, to your suppliers, and to your customers."
ESG Support and Guidance
Open is one thing. Simple and easy are two other things entirely. "We jumped into our first assessment, and it did not go well, mostly because of smaller details," Leggett recalled. "I urge everyone to get help, support and guidance."
That urging was met by nods around the room and more than a few wry, knowing chuckles.
"SOCMA has put together some great resources to help determine what fits your company," Leggett added. "I've come 180 degrees, well, 150 degrees, on EcoVadis. From what first seemed like a terrible burden is now a useful framework. We avoid filling out surveys because now we rely on industry standards and EcoVadis. I have to stress, especially for smaller companies, definitely get some help or it won't go well."
Developing a Strategy
The biggest areas of concentration for ChemDesign are emissions and waste, Leggett related. "Those are a big part of our budget as well as factors in our project selection. We always consider how any given campaign would affect our emissions and our waste generation."
"Milliken defined our sustainability strategy into broad categories of people, product and planet goals," said Sandrock. "We conducted materiality assessments to identify our priorities and focused on delivering innovative solutions that meet those priorities." She added, "But we must constantly revisit those assessments to align with our stakeholders' evolving expectations. One example of this was our recent pivot within Milliken's plant goals. We garnered approval for our science-based net-zero targets, which outlined our new strategy toward becoming net-zero by 2050."
And every company begins coming to grips with sustainability from a different starting point. "My advice to companies that are early in their ESG journey is: don't be so hard on yourself," said Phelan. "This is a long journey. These are major, significant changes for your organization and for this entire industry."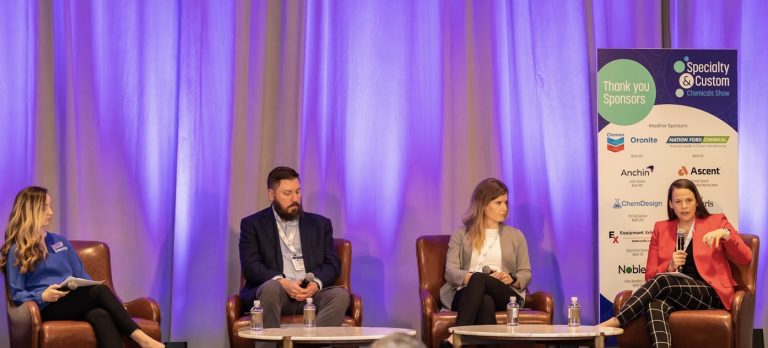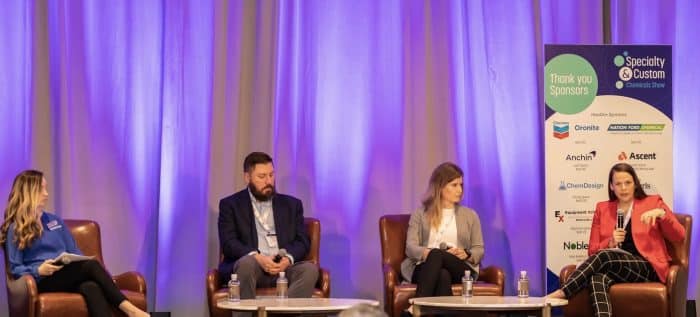 Underscoring the theme from his two colleagues on the panel, Leggett urged the audience, "give yourself credit for where you are already. It's a long process. Chip away at it."
As the session wound down, Krueger asked each of the panelists to close by mentioning the first word that comes into their head about the topic.
Hopeful, Optimistic and Integrated
"The word that comes to mind is hopeful," said Sandrock. "The industry is at a tipping point where more than half of companies that drive the gross domestic product have made commitments to ESG. It's here to stay and is a reality for business. We've had companies require minimum EcoVadis scores as a requirement to bid on business or even to retain existing business."
Leggett offered, "Optimistic is the one word I would use. ESG is not as ideologically driven anymore. It's much more pragmatic and practical."
Phelan suggested "Integrated is the word I would use. ESG involves many of the things we are doing and have been doing for a while. For example, we have been trying to save energy as a way of reducing costs. Now it's part of environmental performance.
Push and Pull
Jennifer Abril, SOCMA President & CEO, asked the panel if ESG practices were more a push from within or a pull from customers or suppliers. All panelists expressed that there is definitely an increase in desire and push from within companies to implement ESG initiatives, but the underlying pull from customers and suppliers is a key driver.
"We have several different businesses serving different industries," said Sandrock. "The requirements for each of those industries are very different. From a strategic standpoint, we see a lot of the pull coming from customers that are closest to the end users. In the future, we expect to see a lot more pressure from other parts of the value chain as well."
SOCMA Solution
Whether your company is early in its ESG/sustainability journey or well into the process, SOCMA's ESG/sustainability framework delivers critical resources and templates for chemical manufacturers to develop and implement ESG-related initiatives into their operations, including:

Resources for identifying ESG reporting standards and platforms, understanding regulatory requirements, and implementing target setting and scoring/rating systems.
Templates for reports and policies, such as Annual Sustainability Reports, Supplier Code of Conduct, and privacy statements, GRI content index and more.
Continuous e-learning and webinars to keep you informed of best practices and benchmarks for specialty and contract manufacturers.
Contact Erika Krueger, Director, Industry Relations, to learn more: ekrueger@socma.org.
Categorized in: Uncategorized