SOCMA's Festive Processional Leads Summit Attendees to 2022 Performance Improvement Award Dinner
SOCMA was thrilled to honor this year's Performance Improvement Award winners at a celebratory dinner and awards presentation during the 2022 SOCMA Summit. The evening of Tuesday, November 15 started off in just the right way, New Orleans-style, with a jazz band procession, leading 140 attendees from the networking reception into the Grand Ballroom. Along with the lively jazz band, the procession was led by SOCMA's outgoing Board of Governors' Chair, Mike Ott, accompanied by SOCMA's Jenny Gaines, the newly minted Senior Director of Membership. It was the perfect way to set the festive atmosphere for celebrating specialty chemical manufacturers who are leading the way in environmental, health and safety initiatives.
Celebrating the Winners
The Summit provided an ideal forum to recognize the achievements of 12 member companies that won 2022 Performance Improvement Awards. SOCMA's annual awards program, now in its 17th year, aims to foster and improve upon a culture of facility safety, product stewardship, environmental safeguards, risk reduction and stakeholder engagement.
During the dessert course of Tuesday night's dinner, SOCMA President & CEO Jennifer Abril took the stage to present each winning company with their awards. Abril shared comments made by the judging panel around each company's activities, because, as SOCMA always strives to facilitate, our industry thrives on best practice sharing.
Nation Ford Chemical Presented Top Honors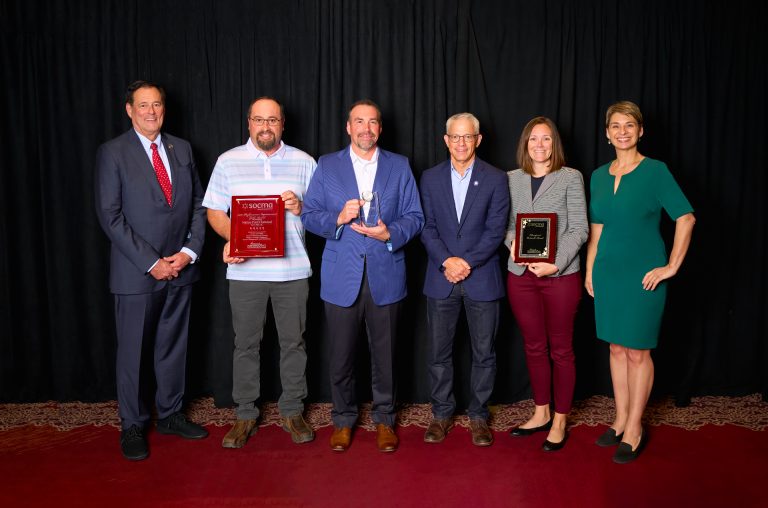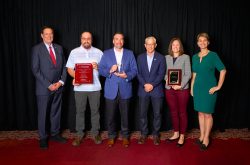 The award presentations ended with the highest honors of not only the evening, but of the 2022 Awards program overall, which called Nation Ford Chemical onstage as winner of the three top award categories – Gold Award, Sustainability Award, and the Educational Outreach Award.
Find out who each of the 12 winning companies were at www.socma.org/operations-manufacturing/chemstewards/pi-awards/2022-performance-improvement-award-recipients/.
SOCMA congratulates all of the 2022 Performance Improvement Award winners, as their accolades extend far beyond the evening of November 15 in New Orleans. As manufacturing in North America surges, and in the face of economic headwinds and lingering supply chain challenges, each company's achievements contribute to higher standards and best practices that are setting the pace for the broader specialty and batch chemical industry as we navigate the road ahead.
Categorized in: Awards, Events, Performance Improvement Awards