Increasing Speed to Market
New York Center for Innovation provides a "plug & play" business model
As demand for bio-technology surges, specialty chemical manufacturers are looking at business through a new lens to bring safe products to market more quickly. The New York Center for Innovation is capitalizing on this growing dynamic by providing a resourceful "plug and play" facility with existing turnkey infrastructure to promote business opportunity.
The New York Center for Innovation takes its cue from a shared space concept and is designed to accommodate any company's space needs, whether it's for expansion, overflow, start and scale-up, or simply administrative office space.
Greg Stanton is General Manager of the 200-acre campus that was purchased from Pfizer in Pearl River, NY – about 25 miles from New York City – 5 years ago.
The property is owned by a subsidiary of Industrial Realty Group, a privately held real estate development and investment firm specializing in the acquisition, development and management of commercial and industrial real estate across the country. Over the past 40 years, IRG and its
principals have acquired or developed well in excess of a billion dollars of corporate and government properties. IRG manages more than 150 properties in 28 states, with over 100 million square feet of rentable space.
"What we offer is premier life science, bio, high-tech, agri-business space, with the geographic benefits of being near New York City at an affordable price," said Stanton. With the volatility of 2020 and a call to bring more manufacturing back to the United States, "we definitely see interest picking up impressively," Stanton said.
Life-saving site
The New York Center for Innovation contains one of Pfizer's top seven research and development facilities for vaccines. In a year when pharmaceutical companies are especially looking to produce life-saving vaccines, Stanton said the New York Center for Innovation is equipped for cGMP production to manufacture or re-manufacture pharmaceuticals. "The infrastructure is in place, which improves speed to market by 2 years," Stanton said. The site's legacy of innovation dates back to 1907, when Dr. Ernst Lederle established the Pearl River site to produce antiserum to treat children with diphtheria in New York City. Since then, the site has developed vaccines to prevent diseases like smallpox and polio.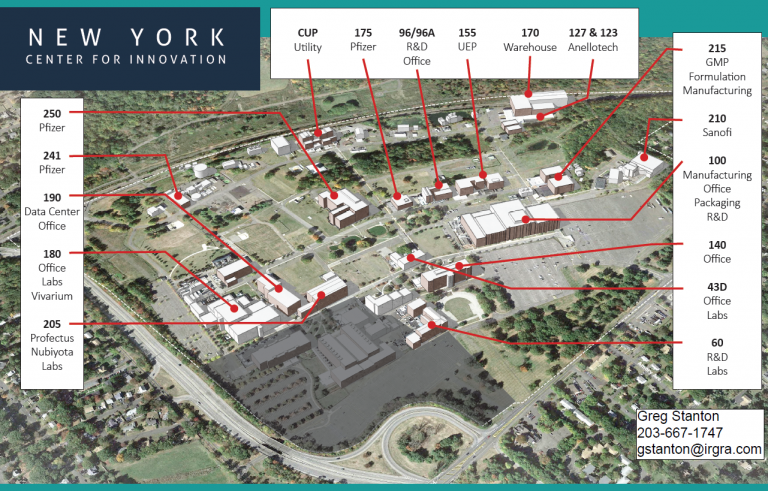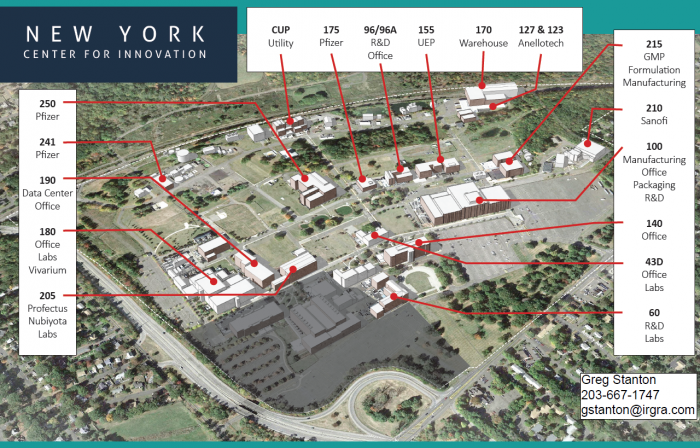 "Speed to market" is the operative phrase, according to Stanton. Manufacturers don't have to recreate space or go through a ground up building/permitting process. The campus also has its own onsite 20 MW Central Utility Plant, which provides reliable, abundant economic electricity, chilled water and steam to companies located within the facility.
Uptick in interest
The bulk of inquiries in the center come from manufacturers, start-ups and testing labs, Stanton said, including pharmaceutical companies interested in COVID vaccine research and development.
Stanton attributes heightened awareness of the Center to the equity and name recognition of Pfizer, which is still located in the facility, as well as companies seeking to move out of Manhattan and the other New York boroughs – prime hotspots for the coronavirus. There's a need for space to social distance within the workplace, and the New York Center for Innovation offers a secure, safe campus where people can "spread their arms" and not have to share benchtops, Stanton said.
Continued growth
As the year wraps up, Stanton believes demand will continue to increase. "People want and need space to grow," he said. And nothing is too small of an ask. There is room for mature companies, as well as 1,000-square-foot labs for start-ups with the scalability potential for growth.
The New York Center for Innovation is also repurposing buildings as opposed to demolishing them and putting life back into the business cycle. If a group comes to the center with certain needs, Stanton said they can build or offer most anything to meet their specific requests – whether it be in the pharma, performance or ag chemicals arena.
For more information on the New York Center for Innovation, contact Greg Stanton at gstanton@irgra.com.
View SOCMA's third edition of Specialty Insights in its entirety on our website: www.socma.org/resource-center/specialty-insights/
Categorized in: Specialty Insights