FOR IMMEDIATE RELEASE



January 10, 2022
Contact:
Janet Metzger
Corporate Marketing & Communications Director
janet.metzger@powereng.com
(208) 288-6132
Jones, Keeling Named PD Division Managers
BOISE, Idaho ‒ POWER Engineers, Incorporated (POWER) continued its leadership changes this week, announcing the new managers of their largest division.
Jay Keeling and Doug Jones, currently vice presidents in POWER's Power Delivery division, will both take on new roles. Keeling, who currently is the head of program management, will become Power Delivery Project Management Division Manager. Jones, currently vice president of POWER's SCADA and analytical services team, will become Power Delivery Engineering Division Manager.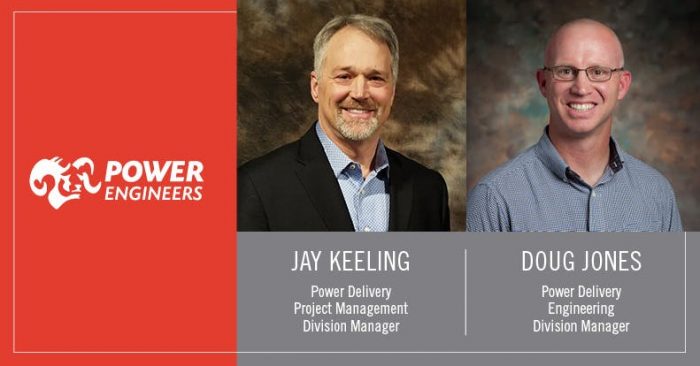 "There have been a lot of great changes among the division leadership," said Jim Haynes, POWER's President and CEO. "Both Jay and Doug have helped drive the success of their business units and will bring that motivation and innovation to their new roles, helping us better serve our clients as they look toward the future of our industry."
Keeling is filling the role left vacant by the promotion of senior vice president Randy Grass, who became POWER's Chief Strategy Officer earlier this month. Keeling originally started at POWER in 1992, serving as a substation design engineer for four years. He came back to POWER as a project manager in 2000 when the company he co-founded, Advanced Power Solutions, was acquired by POWER. He was instrumental in opening POWER's San Diego office that year and the Anaheim office in 2005. Keeling worked his way up to senior project manager, project manager director, and vice president. He earned an engineering degree from Montana State University.
Jones will succeed senior vice president David Leslie, who was recently promoted to executive vice president of POWER's Power Delivery division. Jones has been with POWER since 2007, when the company acquired consulting engineering firm System Protection Services. Since then, he's served as a department manager, senior project engineer, business unit director and vice president. He earned an engineering degree from Colorado State University.
About POWER Engineers
POWER Engineers is an engineering and environmental consulting firm specializing in integrated solutions for clients in the power delivery, power generation, food & beverage, government, renewables and storage, campus energy, and oil and gas industries. Founded in 1976, it is an employee-owned company with 45 offices and more than 3,000 employees across North America.
For more information about POWER Engineers Incorporated, please visit www.powereng.com.
Categorized in: Members