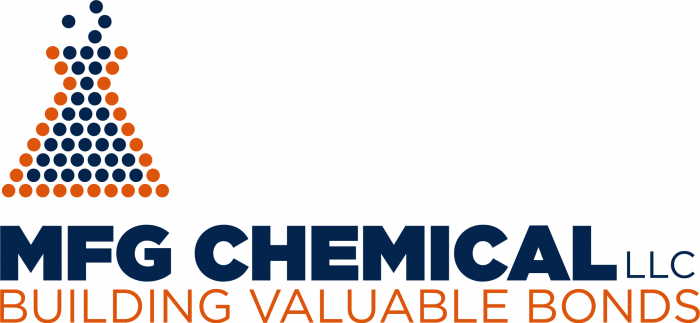 FOR IMMEDIATE RELEASE
February 18, 2020
Contact:
Jon Amdursky
MFG Chemical
(201) 394-2476
jamdursky@aol.com

Keith Arnold Remains on MFG Chemical Board of Directors and SOCMA Board of Governors
Dalton, GA – MFG Chemical, a leader in specialty and custom chemical manufacturing, announces that Paul Turgeon, who has served on the Company's Board of Directors since 2017, will now assume the position of President & CEO.
Keith Arnold, who has served as President & CEO since 2017, is stepping down to focus on personal and family priorities. He will however remain on MFG Chemical's Board of Directors, continuing to serve as a highly-valued resource for the company. Additionally, Keith will continue on the Board of Governors at SOCMA, the specialty chemical industry's trade association.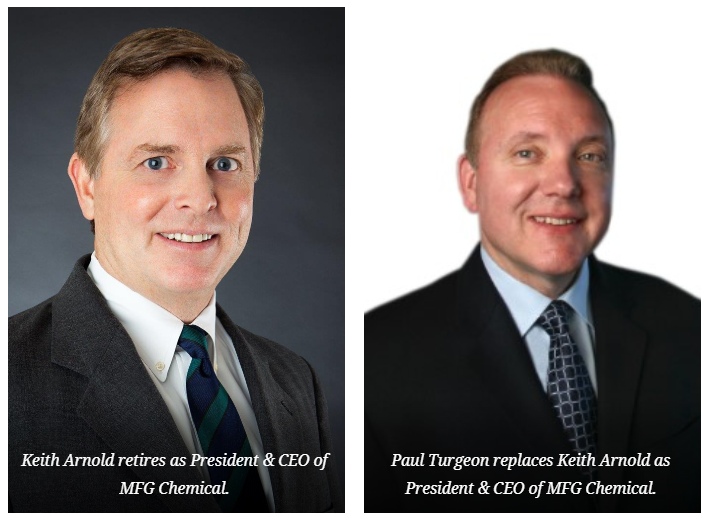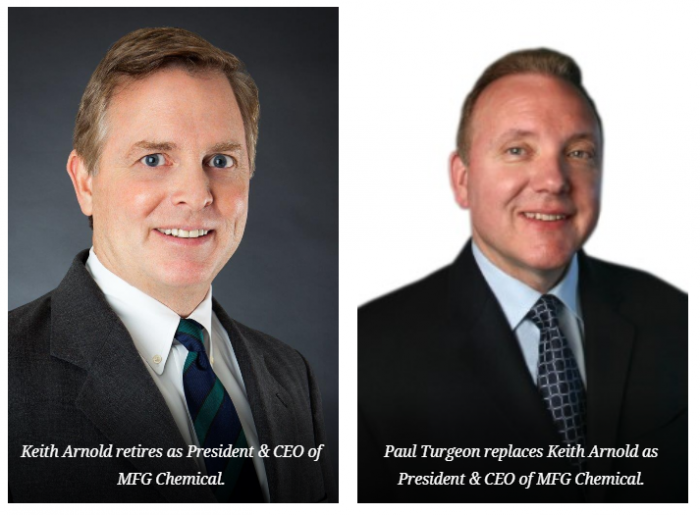 Paul Turgeon is a well known thought leader in the specialty chemical industry. His previous experiences include positions with Ciba, FMC, BetzDearborn, Great Lakes Chemical, Nalco, and Chemtura Corporation. At Chemtura, he and his partners executed purchase of the business he was leading in 2006, creating BWA Water Additives. He led the business for just over four years, at which time the company was sold for a very high multiple. Mr. Turgeon has continued to work with private equity, serving on the Boards of Directors of U.S. Water, CCR, VersaFlex and Anue Water Technologies. He also sits on the Editorial Advisory Board of Water & Wastes Digest, has been published by several leading trade publications, and has served as a keynote speaker and panelist at several industry conferences, including Specialty & Agrochemicals America, AWT, and NACE.
Mr. Turgeon earned an MBA from Emory University and a B.S. in Chemical Engineering from the University of Toronto.
"I'm honored to assume the leadership of this great company," stated Mr. Tureon, "I am looking forward to working closely with this outstanding team at MFG Chemical to meet and exceed our customers' expectations. I thank Keith Arnold for his leadership and many important contributions, including the acquisition of our twenty acre Pasadena, Texas plant to better serve the oil & gas industry." He continued, "Keith has instilled a culture of plant safety and customer confidentiality. He spearheaded the upgrading of all four of MFG Chemical's plants, obtaining the re-certification of ISO 9001: 2015 and the achievement of the "Excellence Tier" and numerous safety and plant improvement awards from SOCMA, the chemical industry's trade association."
Keith Arnold, who is a graduate of Virginia Tech with a B.S. in Engineering, had served as MFG Chemical's VP Sales and Business Development prior becoming its CEO. Keith declared, "Working with so many wonderful customers, and then leading MFG Chemical as its CEO, has been the pleasure and honor of a lifetime. I'm going to enjoy more of a consultative role going forward as a Board Director, and will continue my close friendships and associations within the chemical industry, as well as my work for the SOCMA Board of Governors. MFG Chemical's customers and the MFG team could not be in more competent hands than with Paul Turgeon at the helm."
About MFG Chemical
MFG Chemical is a leading specialty and custom chemical manufacturer for a variety of global markets. The company operates four manufacturing facilities with world-class product development capabilities in Northwest Georgia and Pasadena, Texas. Key markets served include personal care, agriculture, asphalt, graphic arts, lubricants, mining, oilfield, paints & coatings, pulp & paper and water treatment. Major chemistries manufactured include amides, esters, imidazolines, water soluble polymers, rheology modifiers, specialty anhydrides, specialty surfactants and Dioctyl Sodium Sulfosuccinate (DOSS). For more information, visit www.mfgchemical.com.
Categorized in: Members