FOR IMMEDIATE RELEASE



August 20, 2021
Contact:
Michael A. Kucharski, P.E.
VanDeMark Chemical, Inc.
716-333-3030
m.kucharski@vandemark.com


Mike Kucharski Retires from VanDeMark as Jeff Davis is Appointed President & CEO
Lockport, NY – VanDeMark Chemical, Inc. announces the appointment of Jeff Davis to the position of President and Chief Executive Officer. He succeeds Mike Kucharski, who is retiring from day-to-day operations to serve in an advisory role with the company.
"On behalf of the Board of Directors, the management team, and VanDeMark's employees, we want to thank Mike for his leadership and impact over more than three decades with VanDeMark," said Roger Marrero, Senior Partner with Comvest Partners and a member of the VanDeMark Board of Directors.
"During his tenure, Mike led the company through the design and build of the current facility, made strategic acquisitions, and has driven the development and launch of dozens of new products. VanDeMark would not be what it is today without Mike's leadership. Our team is thankful for Mike's unwavering commitment and wishes him the best in his next chapter."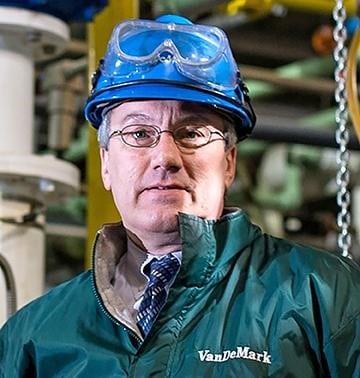 Jeff Davis assumed the CEO role on August 4, 2021, and brings decades of business leadership and specialty chemical experience to VanDeMark.
As stated by Marrero, "We are excited for Jeff to lead VanDeMark and continue to drive growth and expansion. Jeff brings a great mix of experience, passion, and leadership. He will be a great fit for the company."
Davis most recently served as the CEO of Cyanco, a producer of sodium cyanide reagents for gold and silver mining, where he and the team transformed the company from a respected regional player into the global market share leader. Prior to Cyanco, Jeff was the Senior Vice President of the global Superabsorbent Polymer business for Evonik Industries, one of the world's largest specialty chemical companies.
Davis also served as President and Chief Operating Officer of AGY, a leader in the performance composites market. Previously, as President of the Sealants and Adhesives business for Momentive Performance Materials, he and his team delivered record revenues and EBITDA via share growth and innovation. His early career experience was with General Electric in operational and general management roles across multiple GE businesses. Davis has delivered record earnings and revenue growth throughout his career and is known as an engaged and passionate leader.
About VanDeMark Chemical
VanDeMark is a leading producer of phosgene with a comprehensive line of phosgene derivatives and expertise in the development of custom phosgene chemicals. Its products are used in the production of pharmaceuticals, agrochemicals, plastics and polymers, coatings, adhesives, sealants, inks and dyes, personal care and cosmetic products, and for other industries. Visit www.vandemark.com to learn more.
Categorized in: Members