August 12, 2022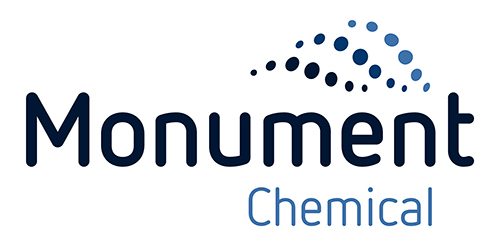 MONUMENT BRANDENBURG CEMENTS SOLID FUTURE WITH AFTON THROUGH EXPANSION
Capitalizing on their "chemistry" with Afton Chemical Corp., Monument Chemical breaks ground on a new operating area within the manufacturing plant in Brandenburg — designed to propel the company's growth and capabilities.
Brandenburg, KY – An exciting groundbreaking event marked the start of a new chapter in the growth-driven collaboration between two manufacturing powerhouses, Monument Chemical and Afton Chemical Corp.
Afton Chemical, a leading manufacturer of lubricant and fuel additives, turned to long-time partner, Monument Chemical and its Brandenburg, Kentucky team, as a supplier of their oil additives, but market demands quickly shifted into next gear, elevating the relationship and Afton's custom manufacturing needs to the next level.
"We really had to expedite Phase 1.0 of the project to get Afton the product they needed as a new supplier as market conditions changed quickly in 2019," Deb Schofner, Monument's Commercial Development Manager, explained. "So while this production was initially incorporated into our pilot plant two years ago, we were aware that we'd need an enhanced capacity solution to handle the volume growth. We always knew phase 2.0 was coming — it was just a matter of timing."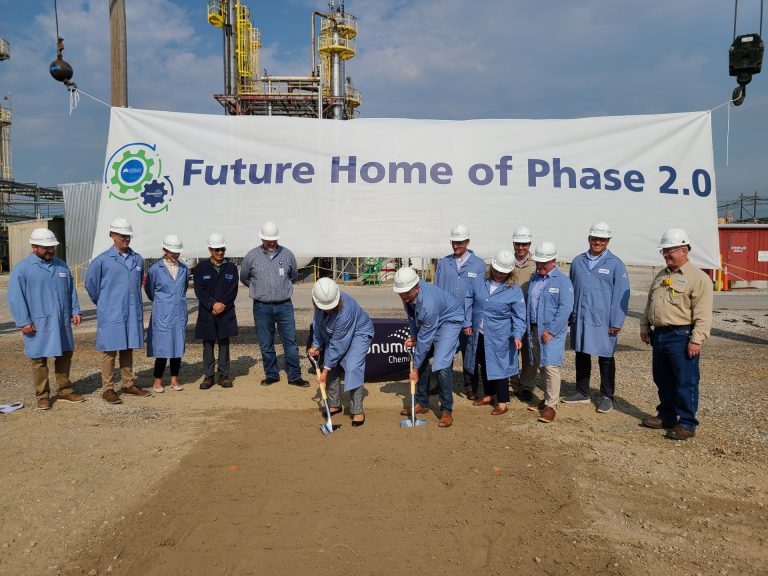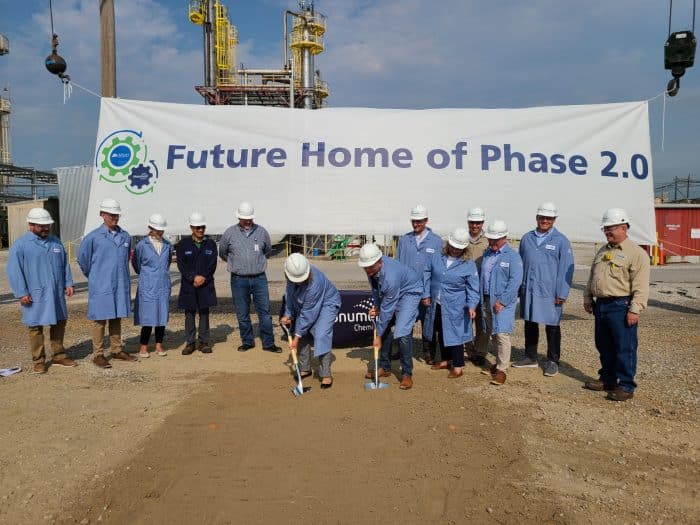 That next phase is officially underway, as the team plans to move this production to a much larger, commercial brown field operations unit. The new construction represents a major investment in Monument and Brandenburg's long-term growth — kicking off with a few additional positions at the site, as well as an exciting future for the customer manufacturing industry.
On July 12, representatives from both companies were present at the groundbreaking event, including Bill Grube, Monument's Global Finance & Business Development, Executive VP, who took part in the shoveling, as well as Afton Chemical Corp. President, Gina Harm.
"It is exciting to be at a point where we are looking forward to commercial scale production, as well as looking for every minute of cycle time we can find in the interim from the pilot plant to increase production," Gina shared. "During the groundbreaking event, I could feel the team's genuine partnering spirit throughout our visit, and I expect that we will continue to find ways to build our mutual business together."
With the new plant needing to be fully operational by October of 2023, a momentous agreement was solidified between Afton and Monument to support the expansion. This includes some brand-new unit operations, a large reactor, and several tanks to support the product production. The Monument team will now also be packaging everything in bulk versus current use at their pilot plant to accommodate the increased scale.
While the tremendous efforts and experience of the Brandenburg team has allowed them to continue to deliver during a time of exponential growth and transition in the interim, October 2023 can't come soon enough.
"While the main goal is to get this plant up and running, we're already setting our sights on what's next," Don Phillips, Monument's Global Custom Manufacturing Leader, shared. "One of the products we make at our Kentucky site is a key ingredient for final products Afton produces that also use products from our Houston site, so as our work in Houston grows, so do our opportunities in Kentucky, as well as those for Afton and our other customers. Everyone wins, and we're ready to really see where this new market can take us."
Learn more at www.monumentchemical.com.
Categorized in: Members