FOR IMMEDIATE RELEASE


March 2, 2020
Contact:
Karen Bells
(513) 334-9444
kbells@vehrcommunications.com
Cincinnati, OH – Pilot Chemical Company recently earned a prestigious regional award that not only recognizes its environmental efforts but also represents a deepening of its relationship with city officials.
In January, the Southwest Section of the Ohio Water Environment Association (OWEA) honored Pilot Chemical with the Karl G. Voelkel Industry Award for outstanding environmental achievement. Bestowed on companies that have improved the water environment in Southwest Ohio, the award recognizes contributions in waste minimization, pollution prevention, environmental compliance and environmental stewardship.
Cincinnati-based Pilot earned the award for wastewater improvements and accomplishments at its plant in Middletown, Ohio. The fact that it was nominated by Middletown officials makes the recognition even more special, said Steve Scott, production manager for Pilot's Middletown plant. The teams at Pilot and Middletown's Publicly Owned Treatment Works (POTW) have collaborated closely over the last couple years to create smart engineering solutions.
"Receiving the Karl G. Voelkel Industry Award is a significant achievement for Pilot Chemical and the Middletown plant," said Scott. "It recognizes the hard work we put into improvements in our wastewater management process, and it is an affirmation that we are doing the right things to be good corporate citizens in the communities where we live and work."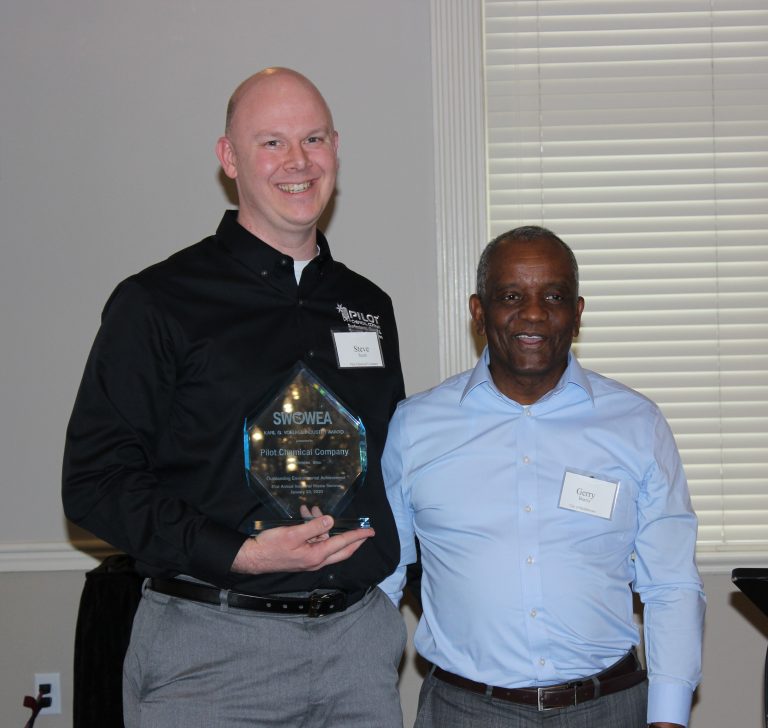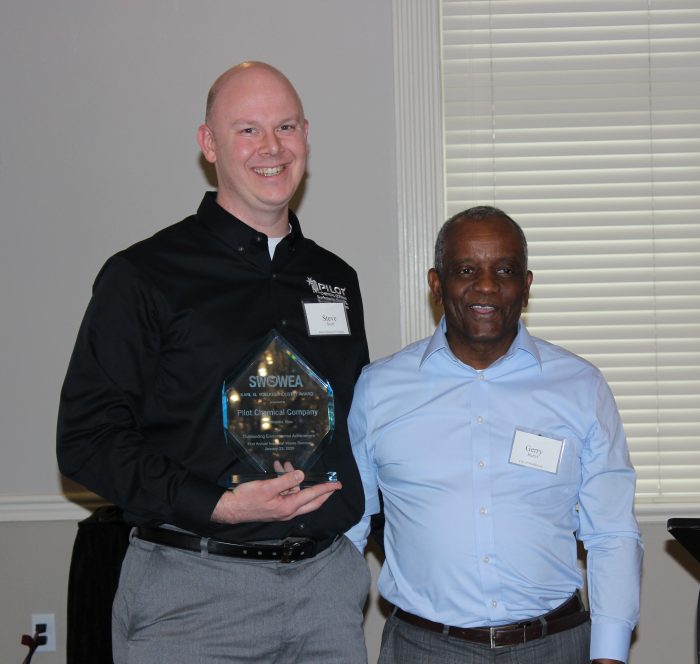 To strengthen its environmental efforts around wastewater in Middletown, Pilot invested $200,000 in automation and in-line sensors and enhanced its operating procedures. The award recognizes those measures, as well as Pilot's redoubled efforts to understand the city's requirements and operational challenges; capture tank clean-out waters that can be sold as low-grade surfactants; and change its approach to manage wastewater.
The Southwest Section of the OWEA presented the Voelkel Award to the Pilot team at its Jan. 23 Industrial Waste Seminar meeting. Following the meeting, Scott addressed the attendees to share lessons learned from the closer collaboration between Pilot Chemical and the city of Middletown.
---
Pilot Chemical Company is a privately owned and independent global specialty chemical company providing high-quality products and services to the disinfecting, sanitizing and cleaning; metalworking and lubricants; oil field and emulsion polymerization industries. Its proprietary core technologies involve alkylation, sulfonation, sulfation and a number of other specialty operations, including the production of biocidal quats, tertiary amine derivatives, polymers and organometallic fuel additives. Pilot, an industry leader in chemical innovation and safety, owns the most state-of-the-art continuous sulfation process in North America, is a leader in quaternary ammonium compounds, and is the world's largest manufacturer of disulfonates. Pilot is certified under both ISO 9001:2015 and the American Chemistry Council's Responsible Care® program. Pilot Chemical Company is headquartered in Cincinnati, Ohio. For more information, visit www.pilotchemical.com.
Categorized in: Members