SOCMA 301 COVID-19 Data Sheet
USTR Seeks Comments on Possible Further Modifications to Remove Section 301 Duties from Additional Chinese-origin Medical-Care Products in light of COVID-19 outbreak; Submit Input to Matthew Moedritzer.
---
MARCH 31, 2020
The Office of the U.S. Trade Representative (USTR) is requesting public comments by June 25, 2020 on further modifications to remove Section 301 duties from additional Chinese-origin medical-care products, including pharmaceuticals and chemicals to make pharmaceuticals.

SOCMA will submit comments to the docket and requests input from members via the SOCMA 301 COVID-19 Data Sheet for inclusion in the SOCMA comments to USTR.

To submit input, contact: Matthew Moedritzer.
---
USTR also recently prioritized the review of exclusion requests addressed to medical-care products related to the U.S. response to COVID-19, and granted approximately 200 separate exclusions covering personal protective equipment and other medical-care related products.

Links to the Federal Register:
Most pharmaceutical and chemical products are found in Section 6 of the Harmonized Tariff Schedule (HTS) of the U.S. (HTS Chapters 28 to 38). Chapter 30 in particular refers to pharmaceutical products, and covers products including finished dosage form drugs and biologics. The Administration was fairly careful about avoiding increasing the cost of health care except in the over-the-counter (OTC) space. Finished pharmaceuticals (HTS Chapter 30) are exempt, and active pharmaceutical ingredients (API) for prescription drugs are generally spared or have been delisted. For example, the Office of the U.S. Trade Representative (USTR) avoided major pharmaceutical tariff lines such as 2935 (sulfonamides), 2933 (nitrogen heterocyclic compounds and derivates) and 2934 (nucleic acids and their salts), which are heavily dominated by biologically active compounds. However, some APIs with OTC applications for instance, remain listed, which could lead to supply chain disruptions or increased costs.
USTR Guidance for Commenters:
Each comment specifically must identify the particular product of concern and explain precisely how the product relates to the response to the COVID-19 outbreak. For example, the comment may address whether a product is directly used to treat COVID-19 or to limit the outbreak, and/or whether the product is used in the production of needed medical-care products.
Comments may be submitted regarding any product covered by the action in the investigation, regardless of whether the product is subject to a pending or denied exclusion request.
Commenters should define the product of concern as precisely as possible. All comments must include the following information, to the extent possible: The ten-digit subheading of the HTSUS applicable to the product, and the identity of the particular product in terms of its functionality and physical characteristics (e.g., dimensions, material composition, or other characteristics). Commenters may provide information concerning the producer, importer, ultimate consumer, or trademarks or trade names, but this is less helpful.
Interested parties may also respond to comments within three business days after a comment is posted in the docket. USTR will review comments on a rolling basis.
When submitting input to SOCMA, please use the SOCMA 301 COVID-19 Data Sheet to include the aforementioned details. Contact Matthew Moedritzer, SOCMA Manager of Legal and Government Relations with additional inquiries.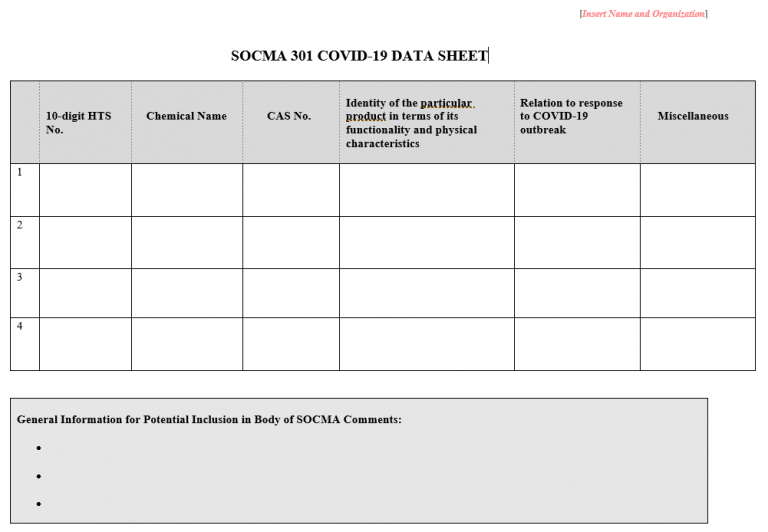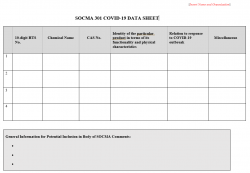 For insight on how your input is used, please find additional links to past USTR comments:

---
DISCLAIMER: This is not intended as legal advice. SOCMA recommends that users contact SOCMA or consult with legal counsel with issues or questions and that users refer to the original Federal Register notices or CSMS messages for official information.
Categorized in: COVID-19/Coronavirus, Policy, Trade